"... helped us grow our single location by over 400% in the first year using the poliSCHOOL program."
Streamline your student admissions process by using the poliSCHOOL trade school admissions CRM. Centralize enrollment efforts, coordinate admissions staff, gather documents, e-sign enrollment agreements, track marketing efforts, and communicate with leads and applicants more effectively.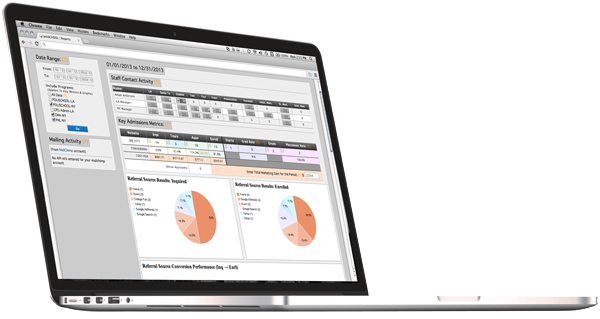 poliSCHOOL's admissions CRM software processes are specifically designed for vocational school admissions. You can track a record from inquiry to application, enrollment and graduation. It's all in the system: no extra plug-ins to buy, no extra costs, and unparalleled support by poliARC.
poliSCHOOL software is different because it was designed for vocational school admissions from the bottom up. It sets benchmarks and flags for the entire admissions process, tracks student communication and enrollment requirements, and registers students in programs and courses. From there, your instructors take over by entering grades using with the student information system, which is all included in the poliSCHOOL system.
Individual and bulk HTML emails with unlimited auto-fill templates, image headers, and quick file attachments.
Application Builder with separate applications for every program you offer.
Agreement Builder student and staff signatures (think Enrollment Agreements)
Integrated IMAP email so you can send / receive from your account while logged into poliSCHOOL.
3 inquiry form methods to capture new leads from your website.
Unique admissions list-based layout with fast access to all info and communication functions.
Custom enrollment requirements for every program.
Powerful list filtering: lead ownership, status, start date, tasks / appointments, funding, and custom enrollment fields.
Admissions activity and marketing report.
Single and bulk SMS messaging with reply notices and conversation tracking.
Email drip campaigns based on status, course, and program.
Custom Forms & Checklist builder that are triggered based on student status to keep staff on track.
Task manager with integrated staff scheduler,  and fully automated Task Series drip campaigns based on application, enrollment, and course start dates to keep your enrollment process on track.
Event registration and follow-up.
Student & graduate referral tracking.
Automated appointment reminders (SMS and email).
E-doc storage for enrollment paperwork.
Custom exports in in PDF and Excel formats.
ADMISSIONS SOFTWARE FOR CAREER SCHOOLS
poliSCHOOL is designed to show users only what they need based on level, activity, and student status. When viewing a person's record you're always one click away from updating enrollment records, uploading e-docs for secure storage, creating tasks, sending text messages, printing letters and sending HTML emails.
The enrollment CRM offers a comprehensive list creation area to create marketing lists, as well as instant course enrollment overviews. The Admissions layout embeds key contact and history data inside the list, so as admissions reps work through new inquiries, they don't have to navigate through tabs or load new pages – everything they need is in one place.
All admissions activity is used to create admissions marketing reports: referral source, admissions reps, etc. The marketing and admissions report also tracks contact history for everyone on staff, so you know who is calling, emailing, meeting with students, and successfully completing enrollments.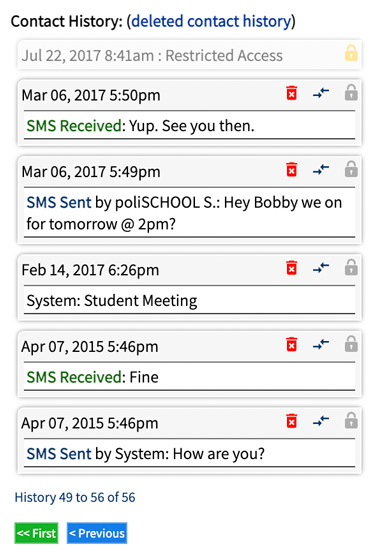 Want to reserve a demo site?
Our demo process is a bit different: we give exclusive access to a fully-functional poliSCHOOL system for one week. That allows you and everyone on your staff to log in, look around and experiment, even submit support requests just like our clients. If you like what you see, then we can schedule a Zoom meeting to go more into the fine details.
More Value. Personalized Support. Career Experience.
Online Course Development
Website Creation & Maintenance
poliSCHOOL All-In-One Solution
Honest & affordable pricing
Includes hosting, document storage, security & backups
Live, multi-day onboarding and training with poliSCHOOL experts
Unrivaled & ongoing customer support for your staff
Application, exports, agreements builder
Unlimited email & document templates
Free updates for as long as you're a client
Bundled webmaster and search engine marketing services at deep discount rates