COMPLETE SCHOOL MANAGEMENT SYSTEM + ONLINE MARKETING.
MORE SERVICES. MOST COST-EFFECTIVE.
poliSCHOOL is more than just a CRM and SiS: it's a full-service online system that saves you time and money.
poliSCHOOL pricing is not based on the number of staff users or student records. That means you don't suddenly get charged twice as much when you start a new class, nor do your costs increase just to store and communicate with graduate records. This can save you hundreds of dollars every month compared to other school management software platforms. poliSCHOOL Core includes licenses for two campuses / locations. As you grow beyond that, you can easily add more licenses for $65.00 each.
When you bundle poliSCHOOL with other marketing and web services your overall costs decrease – a lot. You can save hundreds a month in service fees if you bundle PPC marketing management and webmaster services.
All your data is in one place: your staff and operations will be much more efficient.
Online Courses: sign up for poliSCHOOL + LearnDash and you get a robust system for teaching online, in-person, and hybrid courses.
You will enroll more students: poliSCHOOL's CRM features help you enroll more students more efficiently.
You will retain more students: academic and attendance alerts help you ensure struggling students don't fall through the cracks.
BUNDLE AND SAVE: streamline your online operations by adding webmaster services, a fully-maintained LearnDash LMS website, and Google Pay Per Click marketing management. The more services you use, the more you will save – and save yourself both money and time.
BASE poliSCHOOL SERVICE OPTIONS:
poliSCHOOL Core
Core Enrollment CRM and Student Information System
poliSCHOOL accessed on your own subdomain on a shared server with solid state hard drives for lightning fast database queries and static files hosted in Amazon CloudFront for speedy downloads. Included software functions and services: enrollment CRM, Student Information System, SSL certificate, unlimited records, nightly back-ups, e-doc storage, bulk email (sent twice per hour), and free system updates for two campuses. There are no limits on database or student records storage, but file storage for Student Portal files (PDFs, videos, downloadable course materials, etc.) is limited to 500MB.
$350.00 one-time setup fee.
poliSCHOOL Plus
More Storage + Click-To-Call
Includes all the poliSCHOOL Core services, and adds the option to activate a click to call soft phone on your Twilio account, as well as an additional 500GB of online storage dedicated for student portal files and course materials. We've added this option for schools who need to make a lot of files available to students in the Student Portal and/or for teaching classes: video tutorials, audio files, PDFs, e-books, lecture materials, etc. If you like to give your students lots of resource materials, schedule videos for students to watch each week of the curriculum, etc., then this is a must and lets you go totally paperless.
$350.00 one-time setup fee.
BUNDLE WITH WEBMASTER SERVICES, LEARNING MANAGEMENT SYSTEM, GOOGLE PPC MARKETING
The more you bundle, the bigger your discount:
1 add-on: 5% discount
2 add-ons: 10% discount
All 3: 15% discount
Even Better: all new clients receive 15% off your total services cost for the first 3 months of service!
Non-profits with proof of status automatically receive an additional 10% off.
+ Webmaster
Webmaster services and site hosting to streamline your online assets
Add webmaster services and additional website hosting. A great way to combine online resources to save money and get faster response whenever you need a change. This upgrades includes website hosting on a poliARC SSD VPS server, IT management, content creation, website updates (including on-site SEO), landing pages, and management of two websites. 
Basically you get your own web designer and support staff at 35% discount off poliARC's regular monthly webmaster service.
This option is the best for schools who want one vendor to take care of their primary online systems: website(s) and online CRM / SIS.
+ Google PPC Marketing
Experienced search engine marketing for education
Add PPC online marketing management. Benefit from experienced management and optimization of Google and Microsoft / Bing PPC campaigns*. poliARC has over 20 years experience managing PPC campaigns specifically for postsecondary schools – that's how it all started. Get the best, no-nonsense, targeted Search Engine Marketing complete with monthly reports and all the tracking set up perfectly for you in poliSCHOOL metrics section. Get clean, measurable search marketing without all the empty promises of magical results. Minimum upgrade period: 4 months
* Clients are responsible for the cost of their advertising. poliARC acts as your online marketing manager: we create and optimize your PPC campaigns, provide click reports every month, and ensure proper referral source tracking in your poliSCHOOL CRM.
+ LearnDash LMS
License, host and manage the LearnDash online learning system connected to your poliSCHOOL system.
Add LearnDash LMS hosting with Amazon CloudFront CDN. This upgrade includes license fees for LearnDash, Pro Panel, Uncanny LearnDash Toolkit Pro, and SnapOrbit Notes premium plugins. You create the course content, we take care of the design and IT support and connect it seamlessly to your poliSCHOOL system. If you also need help converting lecture materials to online learning content, you can contract poliARC to do that work separately.
Great for traditional schools who want to make the move to offering online courses. All your web-based systems are managed by one vendor with fast response time and a fully integrated setup.
ADD MORE POWER. DEDICATED PROCESSING. MORE SETUP OPTIONS.
AUTONOMOUS SERVER
Add Performance, Branding, & More Room To Grow ADD $50.00 TO SETUP FEE
Upgrade for those who want the best performance, branding, and control. We install your pS system as an independent file system on a dedicated Virtual Private Server*. You can access the system however you want: on a subdomain of your school's main site (my.yourschool.com), or we'll help you get a new domain (schoolname-portal.com). We manage your private server as part of the monthly service. You also get a dedicated bucket on AWS S3 that you can access with your own IAM user. Other added benefits include: dedicated IP address, bulk email is sent every 15 minutes in batches of 550 (rather than every 30 minutes in batches of 350), no restriction on export record count (normal limits 2000 rows per export), the 500MB local storage limit for student portal is removed (so you might not need poliSCHOOL Plus, which saves money), and you start with 3 campus licenses (rather than 2, which also saves money). With this option, you can also run poliSCHOOL on multiple domains or subdomains if you run a franchise or multiple campuses and prefer to have the branding, urls, logins, reporting, and databases completely separated for each school.
*VPS specs: 4GB RAM, 2CPU cores, 90GB NVMe SSD hard drive. Exact specs are subject to change as technology and costs evolve.
ADD $50.00 to pS setup fee  ($400.00 total)
CUSTOM APPS & EXPORTS
Custom application, transcripts, & export programming
The Custom add-on gives pS Core and pS Plus access to our programmers to create custom exports and custom applications for their system on an ongoing basis. This is a good add-on if you update your online application often, like the option of creating fully customized xlxs or PDF exports, or have a complex application process that requires web programmer to create and maintain it for you. Minimum upgrade period: 4 months
WHEN YOU GROW BEYOND 2 CAMPUSES:
Add what you need when you need it
Add a campus: $65.00 / month
Add a website to webmaster services: $35.00 / month
Add a campus to PPC marketing services: $125.00 / month
poliARC hourly service discounts
Print & Web Design
30% discount
Schools need their print materials and website updated from time to time: new website design, landing pages, email campaigns, brochures, postcards, rack cards, or even school clothing. poliARC can help enhance your branding by working with you to design all your school's marketing materials. We'll even help you get it printed.
Video Editing
20% discount
You can contract poliARC and video partner ShowTel to add extra rhythm and excitement to your video content: commercials, webmercials, even course content. With experience in the music industry, both companies have a unique, tempo-driven approach to video production and editing.
E-Learning Content
20% discount
Let poliARC help convert your lecture materials to impactful online learning content. We use Adobe Captivate to help our schools convert in-classroom presentations to responsive, interactive HTML5 online learning lessons.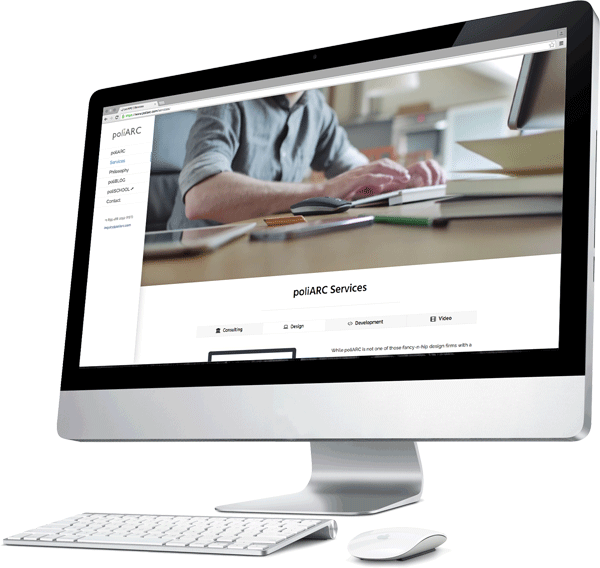 SET UP FEE: Covers 30 days from the date the first user for a new system is created. Beyond basic customizing the system for your school, the set-up fee covers costs to get a new account up and running: hosting accounts and customizing your system settings and branding, creating your application, help converting documents into poliSCHOOL templates, priority training over Zoom, etc…. there's a lot to do with a new poliSCHOOL system setup 😉 The set-up fee is non-refundable and is required before we install poliSCHOOL.
Monthly service rate does not include text messaging or phone costs. If you activate text messaging with the Twilio API, SMS costs are charged separately on your Twilio account: $1.00 per month for a local phone number, $0.0075 per text message segment, and $0.02 per media file in a message. (See Twilio pricing for complete details.)
poliSCHOOL does not charge for the number of users or student records, but it is possible to overwhelm the processing or storage of a shared server (example: 10 campuses with 100 staff members all using it at the same time would stress the server). If your account server level ends up being too slow for your needs, then we'll work with you to find another hosting solution (likely a dedicated server), and add the direct cost of the more expensive hosting onto the regular monthly fee.
You can switch service plan to add more services later if not ready to benefit from them right now.
Monthly fee is billed on the 1st day of each month for the previous month's use. Net 30 days.
Payments are accepted by check, debit or by credit card. There is a $15 additional credit card service fee if your account is not activate autopay.
All invoices and notices are delivered electronically via email. Clients are responsible to ensuring invoice delivery (whitelist poliarc.com and polischool.net on your email accounts).
Suspend or cancel your account at any time.
Accounts that are 15 days past due (i.e. 45 days past invoice date) are automatically suspended until payment is received in full for all open invoices.
Learn more by getting getting access to a demo site!