All student information in one place!
poliSCHOOL's student management software functions are based on best practices for vocational schools in the U.S. The system supports lockstep and open enrollment programs with a focus on constant assessment, automated alerts, and easy data entry for your instructors and admin staff.
Importantly — and unlike other options on the market — poliSCHOOL gives you all modules for one, flat price. There are no minimums or maximums, and no extra charges to add users, student records, or functions. Moreover, all updates are free, and poliSCHOOL clients can request new features. No other school management software can come close to that level of service and customization.
Trade School Student Information System
Enrollment progress & e-doc storage
Class, lab, individual, & sign-in attendance
Grades with custom grade weights
Online multiple choice and skill stests
Application, survey, agreement, staff checklist, and export builder (wow!)
Online credit card and ACH payments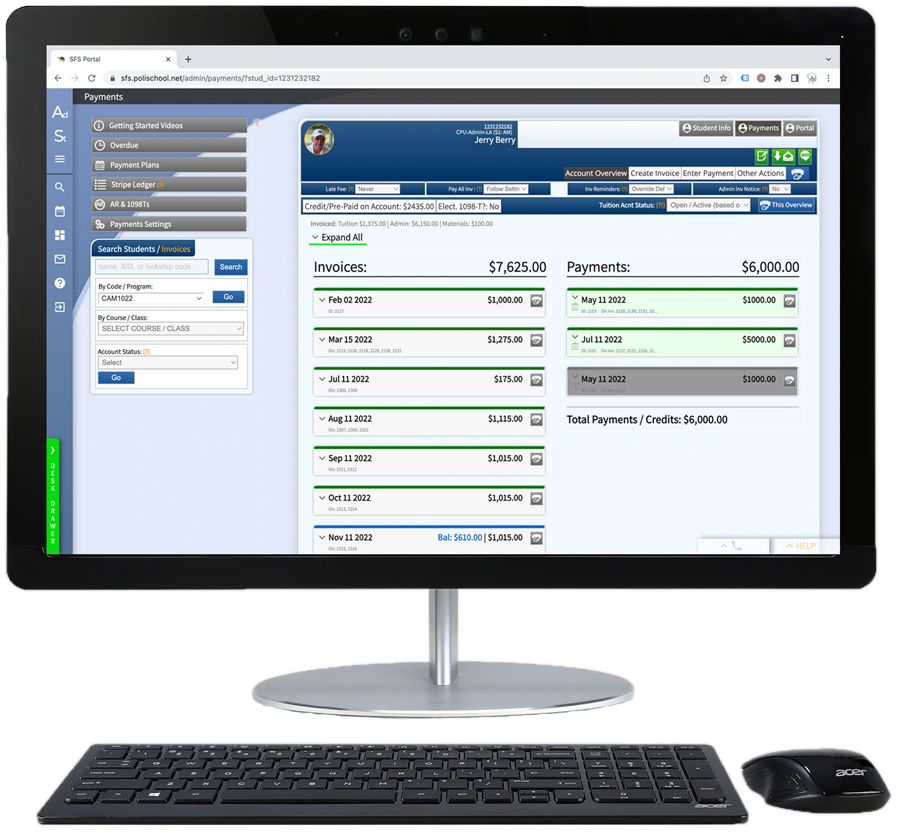 Student invoices and payments
The Payments module covers all your student-related revenue: tuition, materials, and admin fees. poliSCHOOL generates account ledgers by student, program, and campus accounts. It creates student account statements, automatic refund calculations, deposits, invoices and receipts. Students are also sent automated email reminders of up-coming payments as they come due.
Refunds and unearned tuition are calculated automatically for you in real-time with in conjunction with the attendance module.
In the student portal students view their account information, payment plan, and pay invoices with a credit card or ACH funds transfer (requires Stripe account).
Student grades, tests and transcripts
The Grades module lets you define different grade types with different weights (i.e. multiple-choice tests, 50%, projects 40%, final: 10%). Each test or assignment within a grade type can also have its own weighting within its type. Online test grades are entered automatically, and all grade types can be entered using a grid layout for an entire course, or individually for a student, which also allows teachers to attach a grading sheet for storage.
poliSCHOOL student management software also includes multiple transcript layouts for three program structures: Open Enrollment (grades and attendance calculated by course), Lockstep (grades and attendance calculated by module), and Lockstep by Course (grades and attendance calculated by course and module). Clients can also request custom transcripts at no extra cost.
Request demo site access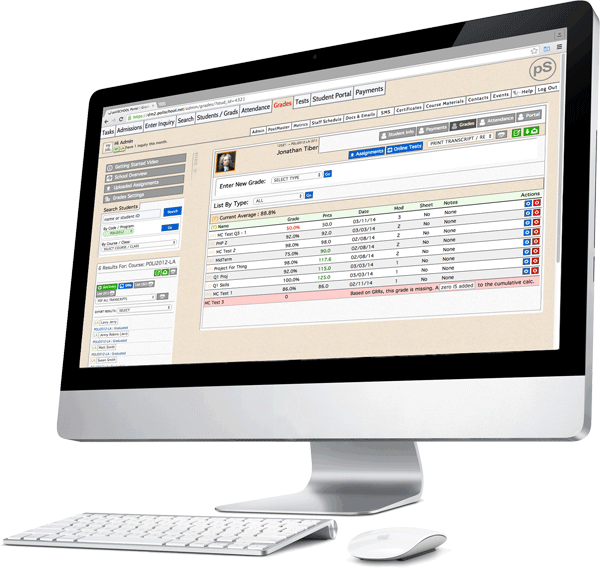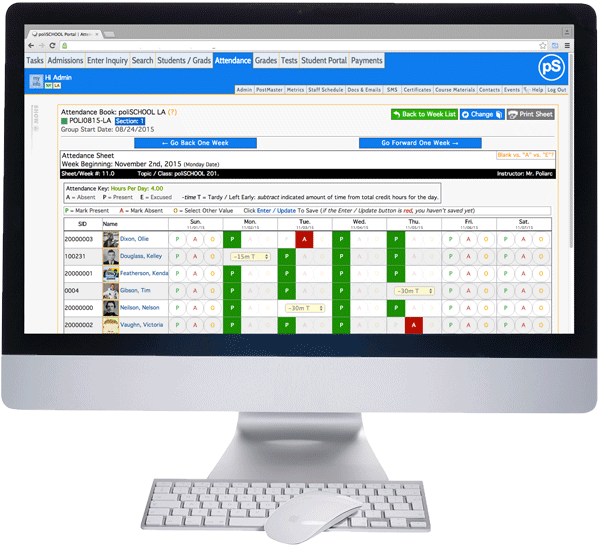 Class, lab, and externship attendance
The poliSCHOOL attendance module can split each day's attendance between class and lab credits, as well as a separate category for individual lab, externship, or study time. Every course has it's own virtual attendance book (printable as PDF), and instructors can enter attendance with any device that has a full web browser. Once entered, the entire student management system is updated (transcripts, percentages, unearned tuition, etc.) – there's no need to enter attendance into another system.
The attendance sheets have embedded student ID photos, large buttons, and multiple hours offered per day override options. In the student portal, students are able to view their own attendance percentages, and if a student's attendance is low, or they pass the threshold for acceptable consecutive absences poliSCHOOL creates alerts for the student and staff.
Request demo site access
Learn more: request access to a demo site!
STUDENT MANAGEMENT SOFTWARE FEATURES!
Auto-Fill Document and Email Templates.

Short codes that personalize all your documents and emails: name, contact info, grades and attendance data, account balance, staff contact and signature, etc.
Schools use these templates for: email marketing, enrollment documents, regular student correspondence, employment verification, student action forms – virtually any document or email used at your school. There's no limit how many you can create.
Documents can be saved as PDF or MS Word files. HTML emails are sent from inside the system, and are saved into the contact history of every recipient.
Marketing & Metrics Reports.

All your key info in one place: Inquiries, Applications, Enrollments by referral source and location.
Grad and Job placement rates.
Admissions staff activities overview.
Class, Externship, Staff, and Teacher Scheduler.

For Students: quickly create class schedules that students access in the Student Portal.
Create externship and tutoring schedules specifically for students that print as customizable time cards and monthly calendars.
Create staff and teacher schedules. View by month, print weekly time cards. Every employee is emailed their schedule for the upcoming week as part of the automated, weekly Task Reminder.

Certificate Designer, Issuing and Printing.

Drag and drop fields. Custom backgrounds and images.
Layout sizes: letter, legal, and tabloid; with or without printing backgrounds so you can use pre-printed certificate paper.
Easily issue and print awards for graduates of all your programs. All certificates are uniquely numbered and added to the students' enrollment records
Events Registration and Sign-In.

Take registrations for open house, tours dates, etc.
Includes registration and sign in forms.
Creates registration, attendee, and no-show lists.
Accounts Details.

A/R Report.
Unearned tuition report.
School account ledgers by program and campus.
Deposits.
Student account ledger and account statement.
LearnDash LMS Integration.

Create LearnDash users and synchronize passwords between the pS Student Portal and LearnDash LMS.
Easily grant & revoke access to courses from the pS student record.
Automatically copy lesson credit time into poliSCHOOL attendance.
Quiz results list & cumulative points overviews; easy click-to-copy quiz results into pS grades.
Online Payments: Credit Cards and ACH Transfers.
Custom File Exports Created Whenever You Want.

Streamline state and federal reporting: send us the report and we'll convert it to a custom export file.
Any report or document you want created as an export file is included in the monthly service; all you have to do is ask.

Real-Time School-Wide Overviews.

Attendance and Grades overviews that highlight students below, and getting close to falling below your minimum passing settings.
Consecutive absences alerts.

Bulk Email, SMS, and PDF Printing.

Document printing: Enables you to print documents for an entire class or group with one click: academic standing, orientation letters, mailing labels, disclosure docs, etc.
HTML emails: send personalized emails to any list you create in Search or Admissions: date range searches, course and program, status, zip code, city, etc. Use for everything from student notices to email marketing. Email every student in a class their academic standing or account statement with just a few clicks.
SMS: quickly send a text message to one person, a class, or the entire school.

Task Manager with Notices and Alerts.

Assign tasks to staff with email notices. Tasks can be general, or attached to specific student records.
Assign tasks to students as Student Alerts that send them an email reminder as well as alerts in the student portal based on whatever interval you choose.
All staff members are sent a weekly email listing their tasks for the up-coming week.

PDF Archive Key Course and Student Documents.

Easily print and archive master grade books, transcripts, grade reports, attendance books, attendance reports, program structure, account statements, account ledgers, calendars, time cards, etc.

Student ID Cards.
Course Materials Upload and Sharing.
Student Portal.

Online multiple-choice tests. Students can view grades, attendance, invoices and account statement.
Student & graduate surveys for orientation, job preference, exit surveys, teacher evaluations, etc.
Upload assignments for grading.
Upload enrollment & application documents for Admissions requirements.
Assignment & file downloads (sorted by category, course, and week number in curriculum)
Post links for courses, embed youtube videos, embed MP4 videos.
School Schedule Calendar
Booking Calendar
Students can use to reserve school resources like labs, study rooms, and equipment.